Details

Category: Tours
Published on Saturday, 01 May 2010 22:49
Written by Bruce Gale
Hits: 3107
Introduction
Band Trip
Earthquake damage
Introduction
In November 2004, the band went to Nias for the first time. Nias is a poor island off the West coast of Sumatra, where about half of the boys in the home have relatives.
Nias is also one of the areas badly affected by both the devastating tsunami that hit Indonesia on December 26 and the earthquake on April 28 the following year. Fortunately, very few of the relatives of the boys were injured. The Salvation Amy and other relief organisations sent emergency supplies to the island, including medical help. After the earthquake, food - especially rice - commandsd a high price. This appears to have been the work of corrupt officials hoarding relief supplies.
---
Band Trip
The band trip, of course, took place in much happier times. This photograph includes some older Salvation Army officers in our "rombongan" from Medan who donned our band T-shirts just for fun.
The band took part in a traditional Salvation Army procession:
With the band leading the way: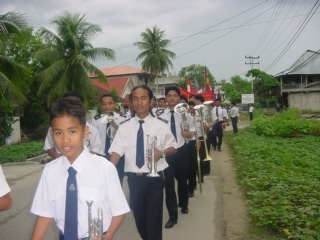 Look at the backdrop we had for one performance! Picture taken after the show was over.
By the sea. Thanks to the tsunami, it is probably all gone now.
---
Earthquake Damage
I have several photographs of the damage, but I will not put them all here. The ones with dead bodies are just too gory. But these previously unpublished photos sent to me by one of the Medan band members who visited the island soon after the quake should give you some idea of the destruction.
This photograph was taken in Gunungsitoli, the main town on eastern side of the island where hundreds of people died.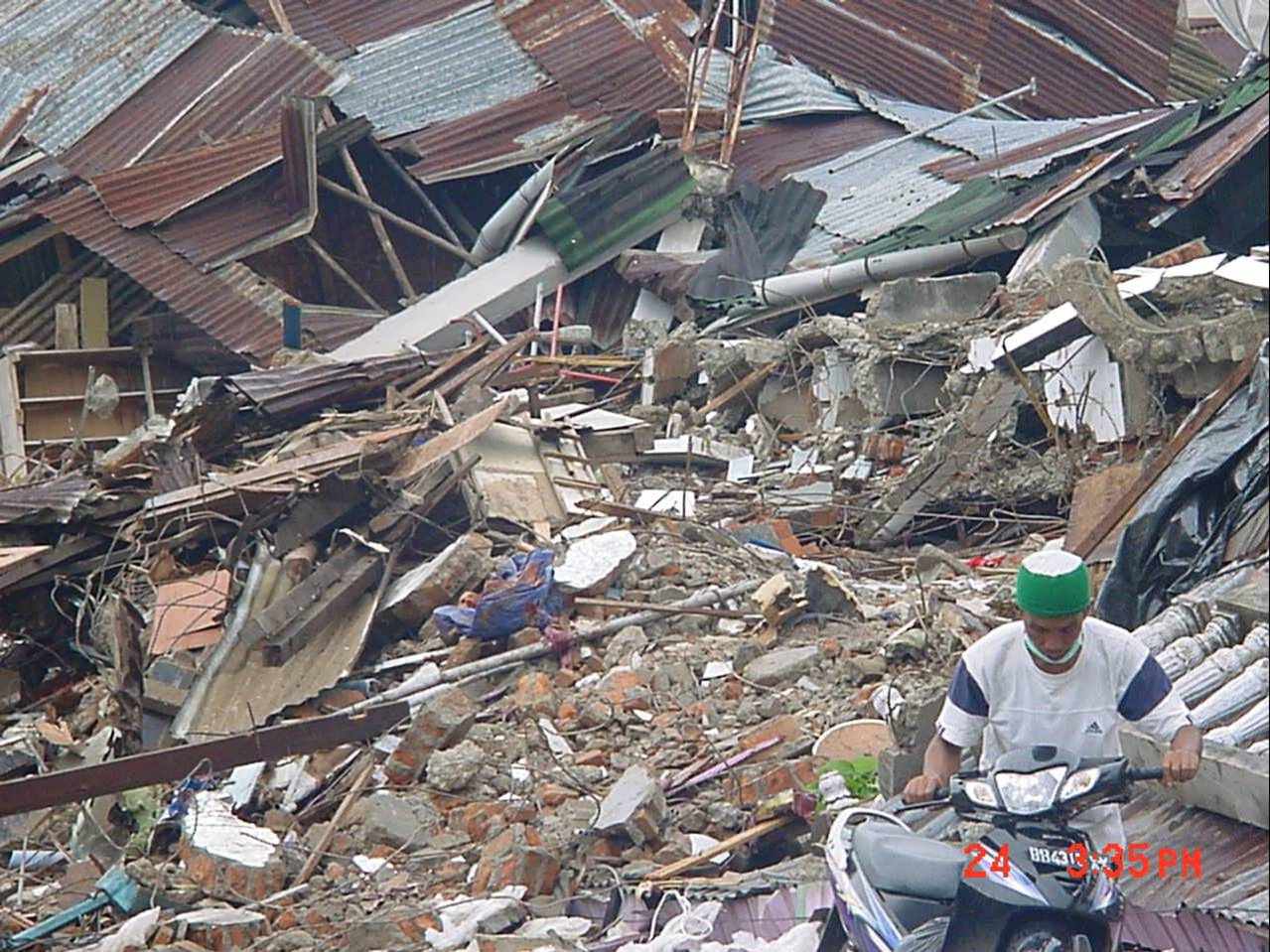 Here is what is left of the Salvation Army corps (church) in Teluk Dalam (a town in the south of the island) where the band stayed last November. Fortunately, we were not there when the earthquake hit!