Details

Category: Tours
Published on Sunday, 02 May 2010 09:51
Written by Bruce Gale
Hits: 4081
From July 16-19 2009 the Medan Band (officially Brass Band Jenderal - BBJ) travelled to Palu in Central Sulawesi to attend the celebrations for the Salvation Army's 115th anniversary in Indonesia. Band members flew from Medan to Jakarta and then boarded a connecting flight to Palu. Both trips took about 2 hours each.
Before we left, we thought that band would have to march at the Congress. BBJ is not a marching band, but we decided we should practice. Of course, the band sounded terrible, and the marching was even worse! It was lucky that when we got to Palu the organisers decided we didn't have to play and march at the same time.
Here are some of the band members at Polonia airport (Medan) before the trip to Palu.
On the plane everyone was happy: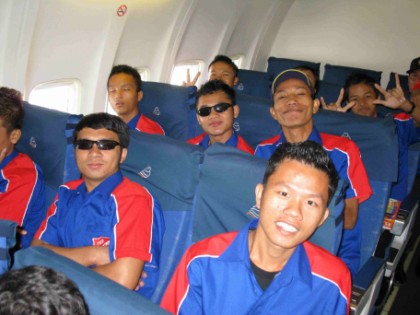 Even 12-year-old Esron, our youngest member, found it hard to believe he was really going!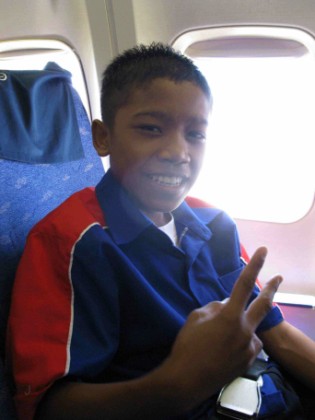 Here is what the band looked like at the Congress:
And here is a close up shot:
There were 14,000 registered participants. Here is a photograph of the overflow at the back of the grounds where the Congress was held:
Just as the Congress was about to start, news reached Palu of the terrorist bombings at the Marriot hotel in Jakarta. Some people were worried that terrorists might attack the Salvation Army congress in Palu as well. But we were about 1,500 km away, and the congress went ahead. You can read more about the political situation in Palu at the time and how the authorities ensured security by clicking here.
Our hosts in Palu provided good food:
But the boys wanted more, especially at night. So I bought more snacks for them to eat.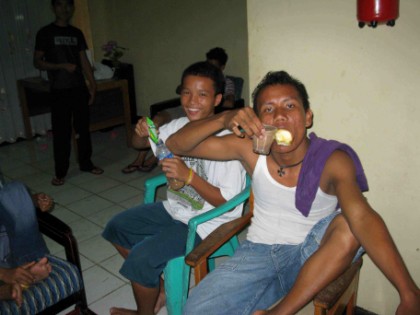 The return trip was boring by comparison. So on the way back, we stopped at Jakarta's Sukarno-Hatta airport to get some burgers:
Arriving back in Medan that night everyone agreed it had been a wonderful adventure. But - curiously enough - band members also decided that Medan was the best city in Indonesia. As for me, I was just plain broke!
(If you got this far, you may also like to read about the band's experience with Indonesia's notorious domestic airlines. click here.)