Details

Category: Concert
Published on Saturday, 22 May 2010 13:04
Written by Bruce Gale
Hits: 2906
Planning
Final Preparations
The Great Day
Repertoire
Planning
Band members first asked me about the possibility of holding a concert when I visited Medan in late 2003. I thought they were a bit crazy - ignorant village kids who knew next to nothing about how a real brass band should sound! After the band almost collapsed in the late 1990s, standards had dropped dramatically. The band was woefully out of tune, we had only one tuba player, a terrible trombone section and no percussionists worthy of the name. But standards soon began to improve, and after months of nagging I finally relented. They would have their concert, and I would soon feel chastened for underestimating them. We began the planning in April 2004, assuming the concert would be staged in November.
It was to be our first ever formal concert since the band was founded in 1987. Until then, almost all our other performances had really been organised by others in support of something else. We only played a supporting role. But in this one we were the main attraction! We printed flyers and distributed them to local churches and other community groups. I even managed to get a publisher friend in Kuala Lumpur to sponsor the printing of special brochures to be handed out guests.
The concert was held in the auditorium at the Salvation Army Girl's Home at Medan - the cheapest location we could find. The building, which dates back to the Dutch era, lacks many of the conveniences most bands and their audiences take for granted these days. For example, there was no air conditioning (a real problem in the tropics!), and the audience had to sit on hard plastic chairs. There weren't many fans either.
The acoustics were also less than ideal. The hall had a high ceiling, cement walls and a smooth tiled floor. But we compensated for these things as best we could, laying carpet at strategic positions on the floor and putting up curtains to absorb echoes. The stage was also completely rebuilt. We also hired sound engineers for the evening. Even so, as you may guess from the photographs below, we had to make some compromises. (For some suggestions about how to deal with similar situations, see the section on concert halls on this website.)
We also worked out a concert strategy. For more details about how to do this, see the section on this website entitled planning a concert in the focus section.
Final Preparations
Months of practice followed in which I would visit Medan every 6-8 weeks for a couple of days to check on progress. But the toughest part was just before the big day. I arrived in Medan from Singapore in November 2004 about four days before the concert for some intensive band rehearsals. Cooperation from band members as well as the superintendents of both the Boys and the Girls Home was superb. I was taken straight from the airport to the auditorium to check up on final preparations. "If there is anything more we need to do, just tell us", they said. I inspected the auditorium carefully and decided that we still needed to find some way to dampen the echoes. "I want  some of that cheap carpet stuck to the walls under the windows", I told them in my best Indonesian. Five older band members immediately volunteered for the job. They began work after band practice that night (about 11pm) and it was all ready within 24 hours.
Don't let people tell you that Indonesians are all lazy. It is not true! Is just a matter of convincing them of the importance of the task at hand. In those four days we held three band practices a day - usually three hours at a stretch - morning afternoon and evening. Nobody complained. We were all too focused on the job.
The Great Day
We sold tickets for the event. An estimated a crowd of about 750 people, including local musicians from all over Medan, turned out for the performance, which everyone agreed was a great success. We were all very proud!
Both the senior and the junior band performed. The following picture shows the senior band tuning up under the direction of Danias Karosekali.
Actually, the cornet section was still slightly out of tune when we started the concert, but it was too late to do anything about it then. Fortunately, most of those in the audience didn't notice. I chewed up Danias about it later, but he took it OK.
Below is ten-year-old Ganda preparing to play a solo accompanied by the senior band. I am conducting. At the time of this performance Ganda  had been playing the cornet for only one year. The solo is an arrangement of "Amazing Grace". This boy has great potential. With proper musical direction he could grow up to be a very fine player.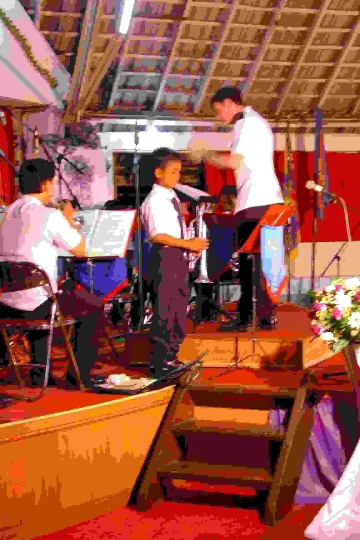 Here is the junior band preparing to play under the direction of Erjoin Marbun: They played three tunes: Onward Christian Soldiers, Yes, Jesus Loves Me, and an an arrangement of Buckland by Salvation Army composer Noel Jones.  At first I didn't want the juniors (mostly kids between the ages of 10 and 12) to play, but they improved so much in the six months before the concert that I didn't have the heart to leave them out. It was a good way of giving the senior band a rest too.
Repertoire
Here is a brief list of some of the music played by the senior band during the concert. Those of you familiar with Salvation Army brass band music will recognize many of these pieces as being especially written for young bands. Others I wrote myself. In 2005 we began playing more difficult music in preparation for our tour of Malaysia and Singapore.
Hymn Setting: Holy Lord (Arr. Ray Steadman-Allen)
Swing Arrangement: Power in the Blood (Arr. William Broughton)
Hymn Setting: In Christ There is no East or West (Arr. James Curnow)
Allah Baik, S'lamanya [God is Good All the Time] (Arr. Bruce Gale)
March: Morning Glory by James Anderson
Indonesian Batak melody: O Tano Batak (Arr. Bruce Gale)<<Selection in Document>>
Indonesian Nias melody: O Tano Niha (Arr. Bruce Gale)
March: Rejoice
Swing Arrangement: Smile (Arr. Leonard Ballantine)
Swing Arrangement: I've Got Peace Like a River (Arr. James Curnow)