Details

Category: Activities
Published on Saturday, 28 July 2012 06:02
Written by Bruce Gale
Hits: 3150
Yogyakarta (Yogya), long renowned as a centre of classical Javanese fine art and culture, now has a Salvation Army band!
The 13-member band based at the Yogya corps practices twice a week (Thursdays 7-9pm and Saturdays 8-9.30pm) and is being taught by BBJ tuba player Lasnointer Marbun.
Regular visitors to this website will remember that Lasnointer (Noin to his friends) is currently studying music at Yogya's Indonesian Institute of Fine Arts (ISI) after his lack of fluency in English forced him to abandon plans to study at Singapore's Nanyang Academy of Fine Arts. Noin's living expenses and university fees are being paid for by a sponsor in Singapore. The band was formed in September 2011, just two months after Noin arrived in Yogyakarta to begin his course at ISI.
Yogya, a city of about 500,000 people, is one of the most popular tourist destinations on Java.  It is also the capital city of the province of the Yogyakarta Special Region, located in the southern part of Central Java.
There were no brass instruments at the corps, or course, so we established a system in which I would bring second-hand instruments with me each time I visited Jakarta to research stories for my newspaper. Noin would then make the 9-hour train journey to Jakarta to meet me and collect them.
The current instrumentation of the band is as follows: Four cornets, three alto horns, three baritones (actually euphoniums), two trombones and one E-flat tuba. Seven of the learners are corps (church) members, while five others are teenage residents of the Salvation Army's boys home in the city. Efan, a trombone player and one of Noin's fellow students at ISI, sometimes helps him teach the band.
Here is a photograph of part of the cornet section: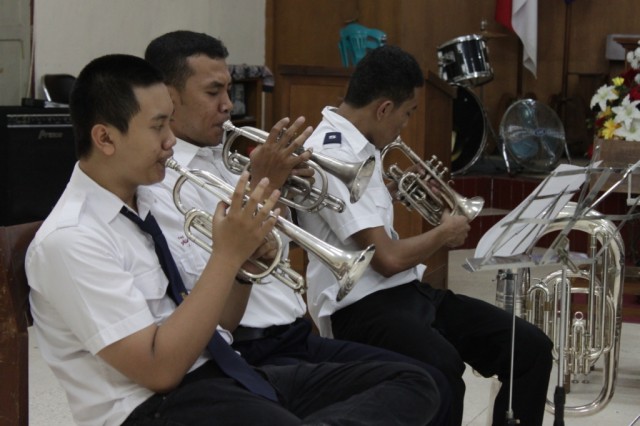 Music stands are in short supply. But I will be carrying several with me when I meet Noin in Jakarta during August. The band could also do with another E-flat tuba (B-flat tubas are too expensive for my budget), but we hope to remedy that problem sometime next year (2012).
Here is part of the lower brasses: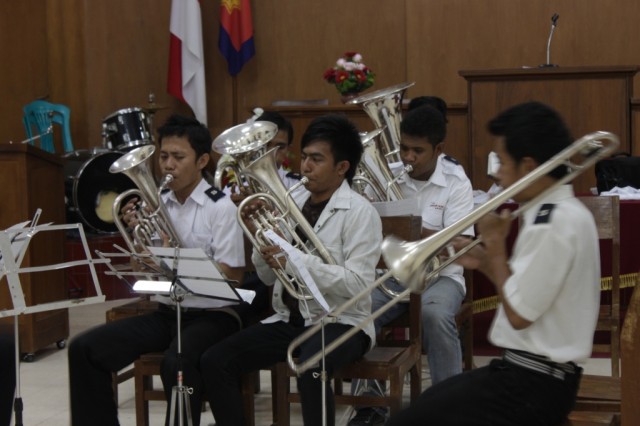 The band had its first public performance two months ago when it played at a church youth meeting.
The repertoire of the Yogya band is still very limited, but Noin reports that they can play "Whisper a Prayer" as well as several tunes from the Salvation Army's band tune book, including numbers 199 (Anything for Jesus) and 16 (Deep Harmony).
The formation of the Yogya band follows the establishment of a band at the Salvation Army Boys Home in Bali in late 2010.
BBJ is no longer the only functioning Salvation Army band in Indonesia. Long may it remain so!
Additional photographs of the Yogya band will be available in the BBJ photo gallery in the coming weeks.