Details

Category: Activities
Published on Monday, 02 April 2012 16:46
Written by Bruce Gale
Hits: 2373
Two young boys - 12-year-old Andreas and 11-year-old Maijen - have become the latest members of BBJ's junior band. The two boys were accepted into the band by Junior bandmaster Deddy Agusta Purba on Friday March 23, 2012 after they passed the entrance examination. The day was a public holiday in Indonesia, so nobody had to go to school. Andreas and Maijen at residents of the Salvation Army Boys Home in Medan where BBJ is based.

As members of BBJ Junior (the junior band), Horn player Andreas and cornet player Maijen will perform in BBJ's concert on Saturday July 14. Also performing at the concert will be BBJ Senior and a visiting Salvation Army band from Australia (Adelaide Congress Hall - ACH).
 
The sixteen members of the beginners band were tested individually in the morning and the results were announced in the afternoon. Here is a picture of all the members of the beginners band before the test.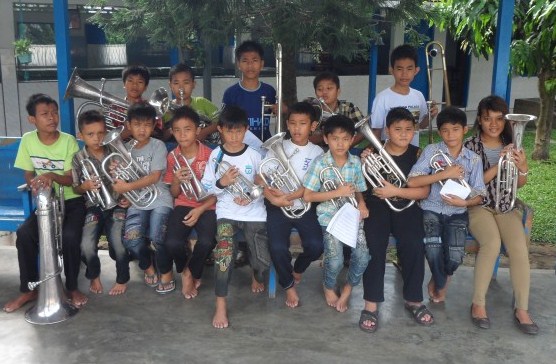 The remaining 14 members of the beginners band were disappointed, but they have been promised a chance to perform in public during the Sunday morning service the day after the concert. Playing in front of the band from Australia, they will get a chance to prove that they have improved sufficiently to become members of BBJ Junior.

As in the case of the learners who formed our reconstituted junior band last year (2011), each candidate was tested on some simple scales and technical exercises chosen from the Salvation Army's publication Studies for Band Training (Album 32). They also had to hold a long note steady in the middle register. This was tested with an electronic tuner.

Here is how they were tested: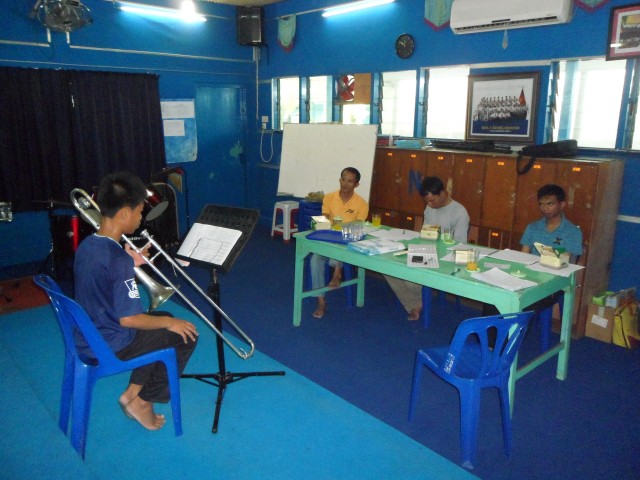 The much higher failure rate this time was not because beginners band members were lazy. Rather, it was because they had only been learning for only six months. All the candidates who passed in 2011 had been learning for more than a year. Beginners band leader Sekti (who plays trombone in BBJ Senior) worked very hard with the young kids, and I am very happy with what he has done.