Details

Category: Activities
Published on Friday, 08 July 2011 11:28
Written by Bruce Gale
Hits: 2734
In early July 2011, 17 learners were accepted into BBJ's newly reconstituted junior band after they passed an internal examination. It was an important milestone. Before that, BBJ had not had a junior band for about two years. This was because – after accepting the entire membership of the previous junior band into BBJ – we had been focussing on raising standards internally.
But with a new group of learners nearing the end of their training in the middle of 2011, it was time to get things moving once again. The learners, who had been practicing hard while BBJ was on tour in Nias, gathered outside BBJ's music studio on the morning of July 5 for their exam. They were tested one by one (ABRSM style) by a group of three judges – myself, Danias (BBJ bandmaster) and Dedi (their trainer).
The learners had both a practical and a theory test.
The practical exam involved:
Playing three technical exercises in the Salvation Army's "Studies for Band Training". Nos 1, 3, and 7.
Holding a note in the middle range of their chosen instrument (concert F or B-flat) for 10 seconds without wavering in pitch. This was tested with an electronic tuner.
Playing the part for their chosen instrument (cornet, horn, baritone, tuba) for the following numbers of the Salvation Army's Band Tune Book – 16, 199, 364.
Scales in the following major keys: C, G, F, B-flat, E-flat and A-flat.
Drummers did not have to play scales, but they did have to play a drum roll for 10 seconds.
The Theory exam involved:
Ability to name all the lines and spaces on the treble clef and give the correct fingering or slide positions for each.
Ability to identify and explain the meaning of the following: time signature, key signature, note names and values.
Explain the meaning of m, mp, mf, f, ff, as well as crescendo and decrescendo.
After an initial meeting, at which I explained the format of the exam to them, we started work. BBJ tuba player Lasnointer Marbun – a former band trainer who has recently been accepted by the Indonesian Institute of Arts in Yogyakarta to study music – ushered in the candidates one by one.
BBJ has always drawn its membership from the residents of the Salvation Army's William Booth Boys Home in Medan. But this time around, we were also testing learners whose parents were regular members of the corps (church). Among them were five girls.
I didn't realise how seriously they all took the examination until around lunchtime, when we had tested about half of them. One of the girls (about 15 years old) had made several mistakes. Thinking she was going to fail, she was fighting back tears as she left the music studio.
That evening we called all of the learners together to announce the results. The exam had also given me a good overview of the strengths and weaknesses of the group as a whole. With the exception of the drummers and one trombone player, their understanding of music theory was quite strong. Most were also able to hold a steady note using the tuner. But the drummers still struggle to produce a good roll on the snare drum – as do their counterparts in the senior band!
There was a wide range of abilities. Using 50% as the pass mark, I graded the lowest at 52% and the highest at 96%. The highest mark was awarded to Tema, a young cornet player. Here he is with Dedi, his proud teacher.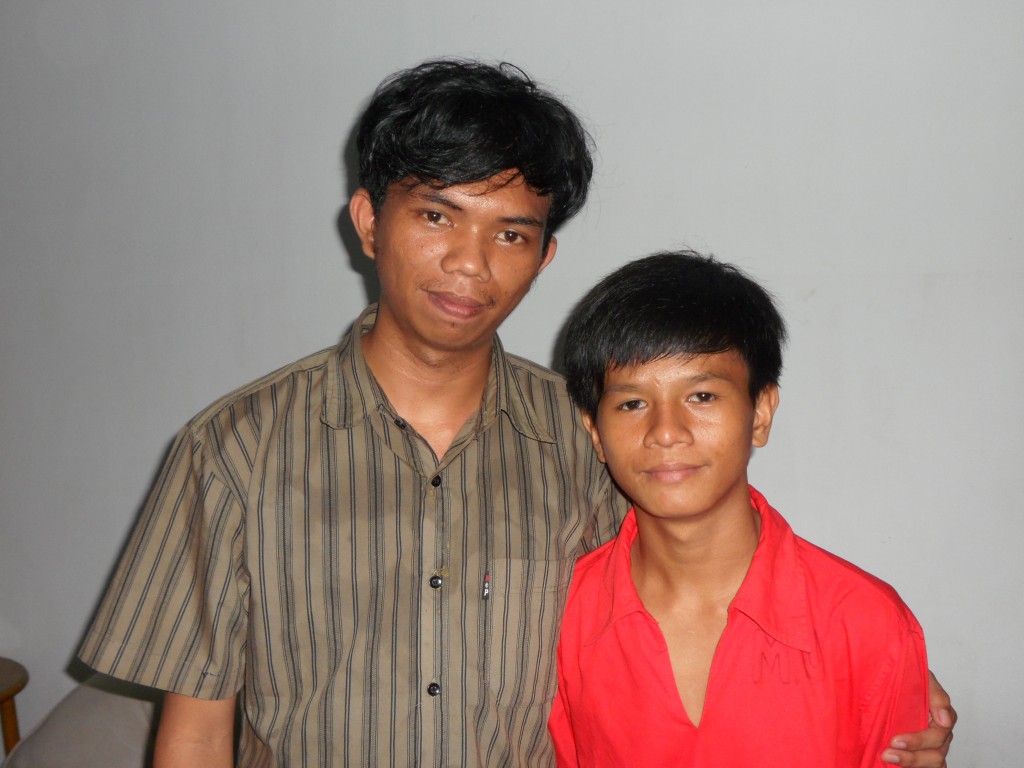 Dedi has now been appointed leader of our newly reconstituted junior band. Another group of beginners start lessons in August. Their teacher is BBJ cornet player Ganda.