Details

Category: Activities
Published on Sunday, 02 January 2011 19:25
Written by Bruce Gale
Hits: 2611
A new world has opened up for BBJ tuba player Lasnointer Marbun (aka Noin) after a bu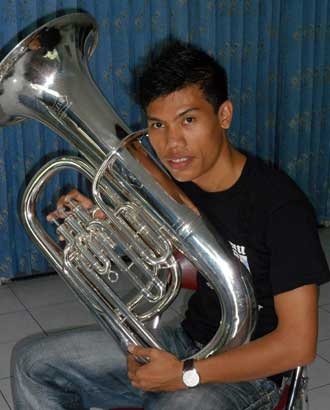 sinessman offered to sponsor him to study music at Singapore's prestigious Nanyang Academy of Fine Arts. The businessman, who only wants to be known as Mr Ong, was responding to an article that appeared in Singapore's Straits Times newspaper on Dec. 25, 2010.
All that is left now is for Noin to pass an audition with NAFA and the compulsory English proficiency examination later this year.Below is the text of the newspaper report that changed Noin's life.
All I want for Christmas is ... to study at NAFA
by Tan Hui Yee
A passion to make music is proving to be a relentless and at times disheartening slog for Mr Lasnointer Marbun from Sumatra.
Home is a 4m by 3m room shared with a friend in between gigs at a downtown Medan cafe, with any earnings he can make zealously squirrelled away. Noin, as he is known to friends, lives, breathes and dreams the tuba - and he has set his heart on studying at Singapore's Nanyang Academy of Fine Arts (Nafa) to take his talent to a new level. After all, as he explains: 'The quality of brass music in Medan is not very good.'
But the odds are heavily stacked against him, as he is all too aware. A music diploma course at Nafa costs $17,000 a year for non-Singaporeans. Noin scrapes together 800,000 rupiah (S$115) a month and has saved only five million rupiah, despite refraining from buying coveted items like a computer which would make writing music much easier.
The 22-year-old plans to attend the Nafa audition early next year. Foreigners make up 40 per cent of Nafa's student population, but the college gave financial awards or assistance to just 18 per cent of its best international music diploma students this year.
But those statistics do not deter Noin, who has already overcome great odds. The 10th child of impoverished Batak farmers from Aek Nauli village near Lake Toba grew up in the Salvation Army's William Booth Home for Boys in Medan because his parents could not afford to raise him.
He missed home and ran away when he was 12, selling his pet chicken to raise money for the fare back to his village. His aghast parents sent him back to the home.

After that, Noin found solace in the tuba, which he picked up at the age of 10 while playing for the boys' home's brass band. Four years ago, after finishing high school and leaving the boys' home, he stumbled upon a magazine with an advertisement about Nafa. It sparked something in him and from that moment, Noin resolved to go to the academy and earn one of its well-regarded diplomas for brass musicians.
So much for dreams. Just earning his keep was hard enough. He drifted from job to job - as a computer laboratory assistant, fruit packer, and then kitchen assistant - before landing a gig playing music at the downtown Medan cafe from 7pm to 8.30pm on Tuesdays. On some Saturdays, he makes extra cash by playing with a brass band in Medan's HKBP Nommensen University.
'
It's been quite tough so far. The place where I live is not very secure. I have lost a pair of shoes, a jacket and my mobile phone,' he says.
'But music is everything to me. It is my life and my wife. It fulfils me and lifts my spirits. I don't want to lose it.'
To achieve his Nafa goal, he runs his life in a military-style regimen. A typical day starts at 7.30am with four hours of tuba practice, followed by two hours teaching brass music to his juniors at the boys' home. He also takes English lessons and music theory lessons, which he juggles with work. He studies on his own for a further two hours before he hits the sack at 1am. To improve his English, he listens to songs and reads as many online articles as he can at Internet cafes. But he laments that 'I do not have friends whom I can speak English with'.

Noin counts as his idol Norwegian solo tuba maestro Oystein Baadsvik, and wants to be a music composer and band master one day.
'My dream is to make brass band music popular in Indonesia. I hope to create some kind of competition between bands so that they have a chance to improve their performance.'

He is talented, say his teachers. His Sunday School teacher, Mr Daneis Karosakali, 34, remembers him as a boy who 'could play all the pieces that all the other kids couldn't'. In August, he was the first Indonesian to achieve a distinction in the Grade 5 brass practical examination held by the London-based Associated Board of the Royal Schools of Music. According to the exam report, Noin was 'dynamically aware' and played with 'an assured sense of shape and line'.

Whether or not the focused young man will get a Nafa scholarship remains to be seen, but Major Winfred Dalentang, who runs the boys' home, says Noin will inspire the rest of its residents to chase their dreams. 'His fellow villagers will see him as another (Barack) Obama, one of them who has succeeded,' he says, referring to the American President who grew up in Indonesia.